V1 RFID Rugged Kingguard Patrol Solution for Some Security Protection (s)
Technical Data
| | |
| --- | --- |
| Probe | RFID |
| Read Tag Distance | 3 cm EM30 |
| Storage Capacity | 129,536 pieces records ,circulating storage |
| Data safety | Data can keep ten years with power off protection |
| Read tags indication | Blue &Yellow LED |
| Charge Indication | Red Led |
| Battery used | 3.7V rechargeable Lithium Battery |
| Battery life (fully charged) | 3 months or longer |
| Protection Grade | Based on IP65 design |
| Shockproof | durable enough to withstand 50 times drop from 2m(about 6.5ft) |
| Operate temperature range | -40°C— +85°C |
| Dimension | 126x35 x 30 |
| Weight | 100g |
| Special features | Drop records and low power remind |
Advantages:
-- easy operation: There's no button on it.
-- rechargeable: Rechargeable Lithium Battery, guard tour wand can work for 3 months after charging.
-- USB-B connector: it can reduce the damage and needn't any downloader.
-- super durable: thicken rubber coat , waterproof, shockproof
-- convenience: small and light guard tour patrol system
-- management software: analysis automatically the patrol data and make it into the chart
-- strong after-sale serive: we have own research group and efficient solution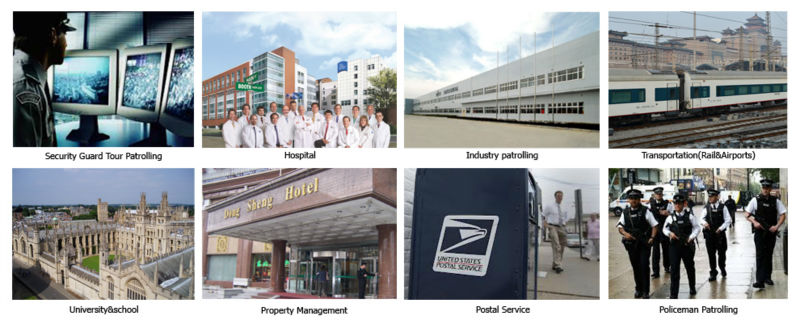 have a cooperation with many famous company !!
Sofeware
V8.0 Guard tour softwar can automaticly analysis data, produces each kind of report which can be printed or exported MS word/ Excel, PDF, JPG, and other popular formats. Unlimited number of sites, checkporints, patrolmen, evens and plans.It supports 32/64-bit Windows XP, Vista, 2000 or Windows 7 OS.